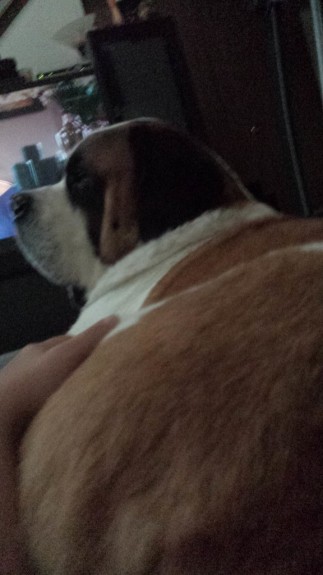 Last night chuck snuck upstairs and pretty much refused to leave my room. We have been gating off the stairs so he doesn't climb them just for safety reasons. One of us will sleep downstairs with him just so he's not lonely. Well he got passed them and would. Not. budge. I of course was worried that something was wrong as 9 times out of 10 he'd rather be with my husband. Deep breaths.
We finally get him back downstairs and when my husband leaves for work I come down and usually fall back asleep on the couch until my son wakes up. No such luck. Chuck demanded I lay with him on the ground. I must have pet him for an hour and he was in bliss. Yes I still worried that something must be wrong. He hasn't been this chuck like since before he was sick. Right before he got dx'd though he was stuck to me like glue which is why I worry. And he was like that right before I got sick 2 months ago. Ugh. Are you telling me you feel better chuck? I hope. Hes been more and more peppy every day. He even got out his nylabone and started playing with it. Whaaaaa?
Then there's his eating. Last night he ate a bowl of. .. dog food. For my husband. When I wasn't home. Lol this morning he ate a little more ham for him. I go to feed him his usual concoction of hamrolls.. nope. No way. Wont even look at them. So I give it a break. Make myself some waffles. Put them on the table. Go get my coffee. Come back. Wafffflesss are gonnneee. Surely it couldn't have been my non starch eating pup? As hes licking the syrup off of his jowls. Yup. He reeked of maple.
I'm thinking the munchie meds are working? lol at least he seems to be feeling better. I guess I have to watch what I put down on the table again. 🙂