This post is going to sound a bit cooky for those who don't believe in spiritual stuff. Let me preface this with adding that I am always super skeptical about stuff like this but I keep finding myself in situations that give me no other choice but to just let the universe just give me what its got for me. Ugh that sounds cooky just typing it but bear with me and hopefully I make some sense here lol.
When I say skeptic I mean I'm a s k e p t I c. Lol. I grew up as a preachers daughter but sort of decided to find my own way when it came to stuff like that. I still don't consider myself to belong to one specific spiritual group. I guess I more or less find comfort in what many ideas have to offer. In my younger days I may or may not have considered myself to have been more or less atheistic. Not that that is wrong. Or bad. I just can't explain a lot of stuff away to rational means anymore.
this post had a purpose. I promise. Lol
see, my younger thoughts on life changed probably the day my mom died. She passed suddenly and there are so many things surrounding that day that only make sense that something greater than me was with me that day. I wasnt supposed to be home but I chose to spend the night at my parents. My mom wasn't obviously sick but I had an eerie feeling that something was wrong. I can honestly say on some level I knew what I was going to wake up to that morning. It's so hard to explain without sounding like a complete lunatic.
Then a few years went by and nothing. I didn't feel my mom around. I didn't even dream of her. My brothers and sisters did but I ALWAYS chalked it up to their subconscious making it happen for them because they missed her. THAT'S logical.
Then one day I had a very vivid dream that is too long to explain here. Without talking to my siblings that morning I logged onto fb that morning. My brother posted that he had a dream of my mom. I called him and it was almost exactly what I dreamt? Then my aunt called me not too long after and SHE had the same dream? Turns out it was the anniversary my mom passed.
Whatever. Still could be rationalized with our subconscious psychological need to feel her with us while subliminally not realizing it was the anniversary of a sad day. Or something like that 😉
I swear this story relates to chuck and dogs and our journey lol
Anyway. .the years go on and stuff like that kept happening. Little signs. The day my first nephew was born I was working late at macys. Annoyed because I wanted to be at the hospital with my family. I was closing down my register. The store had been closed for 10 mins already. And a woman comes to me begging me to stop closing the register. I was super annoyed but something in me said to stop closing it down and ring her up. As I finished, up on the screen pops "ty jules z" usually it said their whole name. Crazy cuz that was my mom's liscense plate. "Jules z" I was wondering all day if she knew my nephew was being born. Still somewhat rationalizable though. Lol
Similar things happened on and off..too many to go into seeing as though I've already written a novel ..
Then chuck got sick. I was so lost. More so than honestly that day my mom died. I know that sounds crazy. But I just wanted some sign that my choices were the right ones. This disease sucks and with our dog none of our options sounded good. Amputate: he may never walk again more than one doctor told us. Do nothing: he cod be gone in a few week. Palliative radiation therapy: risk of fracture increases they said. Ugh ugh and ugh. So which poison did I put my money on? It is all a crap shoot. It still is.
One day I was like begging god to help me decide. Like crazy person losing it begging. And in that exact moment I got an instagram message. From someone in another state who saw chucks picture in the thousands of pictures on there. Who literally just lost their saint to osteo. She contacted me because she thought ours looked similar. Yah. Chucks sister found us. Her mom told me that in her last days that's what she would tell her clara to do when she was gone. find her family. And she did.
And from there I just knew that I had many angels helping us. Guiding us. Holding our hands through this journey. I can't keep rationalizing it away. I just have to trust it.
Before chuck got sick my husband and I talked about getting another dog someday. We talked about names and decided that when we did if we got a girl we would name her Betty. A boy, walter. After our grandparents. We like old ppl names what can I say 😉
last night I could not sleep. I kept thinking about how could I get another dog someday? How can I love it the way we love chuck? Since we are committed to adopting this time around, we have a 3 year old son. How do I know if the dog is safe? How can I even be thinking of another dog right now? I was literally up until 3 am obsessing over this lol.
Then this morning my son grabbed a book I have literally never seen before and I open to this page: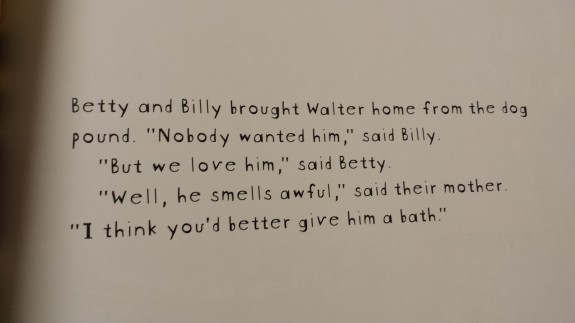 Did I mention my husband's name is bill?
Anyway. What I guess I'm getting at with this random spewing of private thoughts and experiences is that even if you don't believe in this sort of thing.. when I've let go of that need to control every aspect of every day I began to enjoy today for what it really is. I KNOW things will work out the way they were meant to. I KNOW we'll get through this. Sometimes I just need a little reminder.