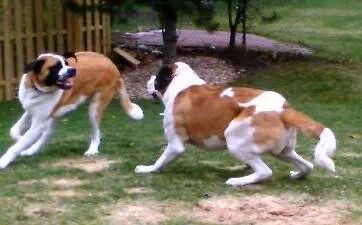 The story of two brothers:
When we picked chuck up from his breeders, 3 hours away from our home, they tried to convince us that the couple from our neighborhood already picked up the dog. Well. It turned out the only two males in that litter were destined to live 5 mins from each other. We left that day not knowing who had Chucks bro, just that he would be close to us.
Fast forward to their first birthday. My husband went to petsmart to buy chuck a birthday gift. And low and behold. . There was this huge saint bernard standing in line at the register. And it was Paulie. Chucks brother. The pic above is them meeting for the first time.
Life got busy for both of our families. We both had babies around the same time, etc. We lost touch for a few years, but last year within weeks of me finding out that my old vet suddenly retired, desperately searching for a new vet, I get a message from Paulie dad just checking in to see how we were. Just in time for me to need his vet info. It was within the next week that chuck started limping and within the next two that we used Paulies vet who ultimately found Chucks cancer.
Chucks battle was a strong one. But a tough one. So many decisions that were so hard to make. And Paulies family was behind us from day one. Regularly checking in and making sure we were all OK.
The day we said goodbye to chuck I got a message from Paulies dad that they were in the waiting room because they had an appointment that night too.
Paulie was in the next room as we said goodbye to our angel. And on Tues he'll get to run with Chuck once again.
Like chuck he's not even close to being a good candidate for amputation for many reasons. Like chuck the cancer is in his front leg. Like chuck. .He's already beginning to fracture. And his parents love him enough to take that pain away before he's completely fractured.
My heart is so shattered that this is happening so damned soon. Their sister died of the same thing 2 weeks before chuck was diagnosed. It's just not fair. Everything about these siblings is so special. It's so ironic how we all met each other. How and when we all came into each others lives. And how we all said goodbye. I really hope something positive comes out of all of this. 3 families lost their dogs before the age of 6. 3 families have had their hearts shattered from osteosarcoma. It's just not fair.
I really don't have any wise words to say. Just please keep Paulie and his family in your hearts and prayers over the next few days. May his last be comfortable. May his family be strong. May their heart be mended. May they all be forever comforted by their own beautiful big angel-saint. On Tues, may chuck greet him at the bridge. So they can once again run free together. ..